In-Depth Update: Glyphosate and Other Pesticides, and Genetically Engineered Crops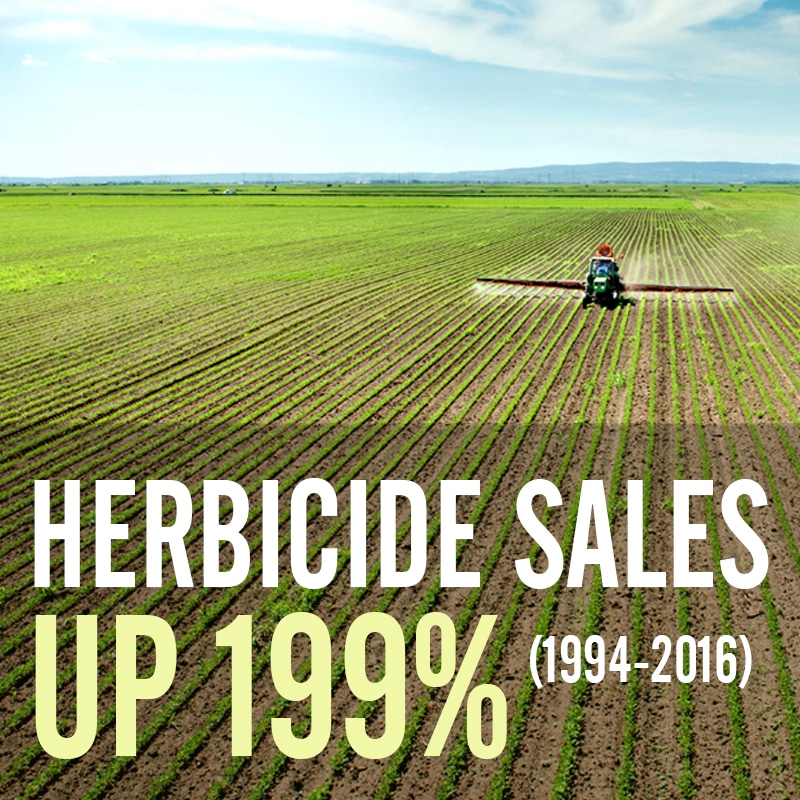 This in-depth update brings together the latest developments on the role of pesticides in environmental and health crises. News on the impacts of pesticides, particularly glyphosate, is accelerating as more documents about the science and regulation of agrochemicals come to light.
The term "pesticides" includes herbicides, insecticides and fungicides. 
Pour l'information en français: "Guide OGM et Pesticides: 10 mythes à déconstruire" (Vigilance OGM).
---
Take Action
The National Farmers Union is asking you to sign and share a new online petition asking Health Canada to disallow glyphosate use for "harvest management benefit."
Glyphosate is a weedkiller but is often also used as a desiccant – which means it is sprayed on crops to dry them so they can be harvested more quickly, a practice that increases the glyphosate residues in foods. However, glyphosate is not technically a desiccant and is not registered for this use. The National Farmers Union is asking the Pesticide Management Regulatory Agency of Health Canada to remove reference to using glyphosate for desiccation.
Did you know you can donate to support the National Farmers Union?
---
Regulation of Glyphosate Safety
You can watch and share the new CBC documentary "The Monsanto Papers: The Canadian Connection" (originally from the French CBC program Enquête aired in February).
The show description reads: "The Monsanto Papers are secret company documents that show disturbing practices used to defend glyphosate, the main ingredient in Roundup, including allegations of ghostwriting of scientific articles. They show how a Canadian firm recruited scientists to publish certain studies and how a number of them were secretly reviewed by Monsanto prior to publication. The same studies were used as part of Health Canada's re-approval process of glyphosate. The Monsanto Papers were released in the court case of Dewayne Johnson, a cancer patient who sued the Monsanto and won a $78 million settlement in 2018."
In March, CBC TV The Weekly with Wendy Mesley also aired "The Problem with Glyphosate", which was later renamed "The debate over whether glyphosate causes cancer" and features a discussion with US lawyer Brent Wisner on science and regulation. The show's introduction says, "We explore a Canadian connection and allegations of science for sale. Was Health Canada influenced by a multi-billion dollar corporation?"
Just months earlier, in January, Health Canada concluded a review of its 2017 safety evaluation of glyphosate, and re-approved it until 2032. Health Canada said, "Our scientists left no stone unturned in conducting this review. They had access to all relevant data and information from federal and provincial governments, international regulatory agencies, published scientific reports and multiple pesticide manufacturers." However, CBC reported that the decision was based in large part on studies written by industry. CBC reported that Monsanto hired the Canadian company Intertek to coordinate four "independent expert panels" to publish papers in the journal Critical Reviews in Toxicology. The 15 researchers all concluded that the herbicide ingredient glyphosate is not a carcinogen. In defending its decision to re-approve glyphosate, Health Canada cited those papers in its list of references.
In February, the Toronto-based group Safe Food Matters Inc. filed an application in federal court to challenge Health Canada's re-registration of glyphosate.
Meanwhile, the report that was the basis of the European Union's 2017 reauthorization of glyphosate was found to have plagiarized large sections of Monsanto's own studies.
Furthermore, several reports – including in The Guardian, Le Monde and a new exposé by U.S. Right to Know – show that Monsanto actively tried to undermine the credibility of the International Agency for Research on Cancer, a division of the World Health Organization which classified glyphosate as "probably carcinogenic to humans" in 2015.
On April 27, the French Minister of Agriculture announced that France would prohibit glyphosate use starting in January 2021, with some possible exceptions for cases where no alternate product is available.
---
Cancer Court Verdicts Against Monsanto
"This case is way bigger than me. I hope it gets the attention that it needs." – Dewayne Johnson, former school groundskeeper awarded $78-million from Monsanto
Three US court cases against Monsanto have found that the company's glyphosate-based herbicides including "Roundup" caused or contributed to the blood cancer non-Hodgkin's lymphoma in four herbicide users, and that Monsanto has long known about – and covered up – the cancer risks.
In Canada, Helen Mcinnis filed a worker's compensation claim for her cancer, but was denied. You can learn about her story in the CBC documentary "The Monsanto Papers".
The first farmer class action suit in Canada has just been launched. A Saskatchewan farmer in his 50s who was diagnosed with non-Hodgkin's lymphoma is leading a class action lawsuit in Canada against Bayer and Monsanto. The farmer contends that exposure to Roundup contributed to his cancer and that Monsanto, which was bought by Bayer last year, withheld information about safety. The suit is open to other Canadian farmers. The case can proceed when it is officially certified as a class action, a decision expected at the end of 2019 or in early 2020.
The US trials have revealed that Monsanto did not conduct epidemiology studies for Roundup and its other glyphosate-based herbicides to evaluate the cancer risks for users, and that the company spent millions to finance ghostwritten studies and articles to discredit independent scientists whose work found dangers with Monsanto's herbicides:
On May 13, a US jury ordered Monsanto to pay just over $2-billion in punitive and compensatory damages to a married couple, Alva and Alberta Pilliod, who developed the cancer non-Hodgkin's lymphoma after years of using Roundup. The jury found that Monsanto was liable for the cancer, and that the company "engaged in conduct with malice, oppression or fraud committed by one or more officers, directors or managing agents of Monsanto" who were acting on behalf of the company.
In March, a San Francisco jury awarded $80-million to Edwin Hardeman who sprayed Monsanto's glyphosate-based herbicide for nearly 30 years, before he was diagnosed with non-Hodgkin's lymphoma. He used it to control weeds on his properties and testified that he would not have used it if it had come with a cancer warning.
In August 2018, a jury ordered Monsanto to pay $289-million to Dewayne "Lee" Johnson, a California groundskeeper, who developed non-Hodgkin's lymphoma. The award was later cut to $78-million but the judge did not overturn the decision. The jury found that Roundup caused the plaintiff's cancer, and that Monsanto acted "with malice or oppression" in failing to adequately warn of the risks.
Agrochemical and pharmaceutical company Bayer bought Monsanto in 2018 for $63-billion. After the most recent US court verdict this month, Bayer's stocks fell to their lowest in seven years. The company's shares have fallen by 40% since the first US court ruling in August 2018. Bayer now faces lawsuits from over 13,400 more plaintiffs over Roundup's cancer risk.

---
Herbicide Use and Genetically Engineered Crops
The widespread cultivation of genetically engineered (genetically modified or GM) glyphosate-tolerant corn, canola, soy, sugarbeet and cotton has increased the use of glyphosate. In Canada and the US, this increase has led to the development and spread of glyphosate-resistant weeds, which are no longer killed by glyphosate. Companies are responding by promoting the use of other herbicides and new GM crops that are tolerant to the herbicides 2,4-D and dicamba.
CBAN's research has found that genetically engineered crops are further entrenching herbicide use:
Almost 100% of the GM crops (corn, canola, soy, sugarbeet and alfalfa) in Canada are genetically modified to be herbicide tolerant, often with tolerance to multiple herbicides.
Since the introduction of GM crops in Canada, herbicides sales have risen by 199% (1994-2016). (The federal government does not track pesticide use or GM plantings.)
About 56% of the global use of glyphosate-based herbicides is on GM crops.
The biggest biotechnology/seed companies in the world are also the biggest agrochemical companies (See www.cban.ca/corporatecontrol).
Of the 33 GM herbicide-tolerant crops approved for growing in Canada that could be on the market (there is no government tracking of plantings): 22 are owned by Bayer, 6 by Corteva (DowDupont), and 3 by Syngenta (ChemChina).
Most genetically engineered seeds on the market in Canada are now designed to be tolerant to more than one herbicide. For example, the genetically modified corn from Monsanto called SmartStaxTM Pro x EnlistTM is tolerant to three herbicides: glyphosate (Roundup – from Bayer); 2,4-D (Enlist – from Corteva, a division of DowDuPont); and glufosinate (Liberty – from Bayer).
The herbicide dicamba is being more widely used due to the introduction of GM dicamba-tolerant soy and cotton, particularly in the US. Dicamba is prone to drifting and is damaging neighbouring crops and habitat:
---
Pesticides and Insect Biodiversity Loss
There is increasing evidence of global crises for insect and bird populations, with many declines connected to agricultural expansion and intensification that reduces habitat and increases pesticide use.
"Once upon a time, bugs were seen as a threat to our food supply. We now know that they are the foundation of our ability to feed ourselves – and we're killing them at an incredible rate." – from the short Greenpeace video "How bugs put food on our table."
Intensive agriculture and heavy pesticide use are a major cause of plummeting insect populations, according to a new analysis of 73 studies on insect decline. The review, published in April, says the causes of the decline are habitat loss and conversion to intensive agriculture and urbanisation; pollution, mainly synthetic pesticides and fertilisers; biological factors, including pathogens and introduced species; and climate change. The authors say, "A rethinking of current agricultural practices, in particular a serious reduction in pesticide usage and its substitution with more sustainable, ecologically-based practices, is urgently needed to slow or reverse current trends, allow the recovery of declining insect populations and safeguard the vital ecosystem services they provide."
Two new studies have also found that populations of dozens of bird species in France have declined dramatically – in some cases by two-thirds – because the insects they feed on have disappeared. The researchers speculate that the declines are primarily due to the intensive use of pesticides on crops such as wheat and corn.
---
Organic Farming and Agroecology
"We need a shift in agriculture: away from a battle with nature to working with biodiversity to grow our food. Safeguarding biodiversity is not a choice – it's a matter of human survival." –  USC Canada
In February, the United Nations Food and Agriculture Organization published its report "State of the World's Biodiversity for Food and Agriculture" which concluded that the future of food is under threat from how we currently produce food. The world is producing more food, but is relying on ever-expanding monocultures that are harming biodiversity: "The foundations of our food systems are being undermined, often, at least in part, because of the impact of management practices and land-use changes associated with food and agriculture."
However, ecological farming methods, including organic farming, do not use synthetic pesticides or genetically engineered seeds. According to USC Canada, these methods are the future: "Agriculture is a big problem when we talk about large-scale, monoculture crops. But the ecological agriculture practised by the world's small-scale farmers actually keeps biodiversity alive, while nurturing soils, pollinators and fragile ecosystems like drylands, pastures and wetlands." 
"We need to use biodiversity in a sustainable way, so that we can better respond to rising climate change challenges and produce food in a way that doesn't harm our environment."
- José Graziano da Silva, Director-General, United Nations Food and Agriculture Organization.
---
Other Resources
See www.cban.ca/pesticides for CBAN's factsheet "Genetically Modified Crops and Herbicides"
and information on the use of herbicides with GM crops in Canada.
The National Farmers Union
publishes a newsletter and policy briefs that often include in-depth information on pesticide regulation. The National Farmers Union is a leader in calling for the use of the precautionary principle when regulating pesticides.
For information on pesticide toxicity, including the environmental impacts of neonicotinoids and for actions in Canada, see the Canadian groups
Prevent Cancer Now
,
Friends of the Earth Canada
,
Equiterre
, and the
David Suzuki Foundation.
For details of Monsanto's documents uncovered through the US court cases, see
U.S. Right to Know
.
For information in French
and to get copies of the new
"Guide OGM et Pesticides: 10 mythes à déconstruire"
see the website of CBAN Member group
Vigilance OGM
.