Ban Outdoor Field Tests of GM Crops
On June 14, the Canadian government announced a contamination incident with unapproved genetically modified (GM, also called genetically engineered) wheat. Several GM wheat plants were found on a road in Alberta in an isolated contamination case and the government does not know how they got there. No GM wheat was ever approved for growing or eating in Canada, but the GM trait found growing in Alberta was field tested from 1998-2000.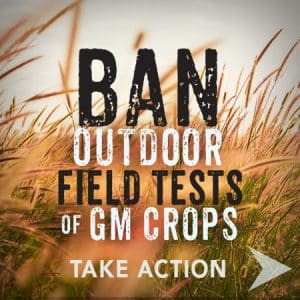 The National Farmers Union is calling for a ban on outdoor testing of GM crops. Please support this call by sending your letter from this website today (use the green box on the right of this page).
"The only way to prevent these incidents happening in the future is to ban outdoor testing." – Terry Boehm, Chair of the National Farmers' Union Seed Committee
GM Wheat Contamination Found in Canada
"We may never know how this GM wheat came to be present on an access road."  – Canadian Food Inspection Agency, June 2018
GM Crop Field Tests in Canada
GM Wheat Field Tests: According to the Canadian Food Inspection Agency (CFIA), biotech companies have conducted field trials of genetically modified wheat in most years since 1998, including 2 in Ontario in 2011 and 2012, and 52 in Alberta in 2014. Monsanto conducted outdoor trials of GM herbicide-tolerant wheat from 1998 through 2004. Syngenta and BASF did field testing in 2005 and 2006. For the past five years, most of the field trials have been done in Manitoba and Saskatchewan. 54 field trials of genetically modified wheat – including 32 by Bayer Crop Science, which has just purchased Monsanto — were carried out in Saskatchewan and Manitoba in 2017.
The CFIA lists all authorized field trials with "Plants with Novel Traits" – please note that most, but not all, of these are the product of genetic engineering. Please contact us with your questions or for further details.