Events
Food Talks, Whitehorse, Yukon
Thursday September 13, 2018: "Modified" Screening, Q&A with Lucy Sharratt, Coordinator of CBAN. At the Old Fire Hall. Admission by donation ($5 suggested) & cash bar. Doors open 7PM, Introduction at 7:15. The movie event kicks of 3-days of events: Click here for the schedule.
Modified – Film Screenings
Click here to check listings to find out where you can watch the new Canadian documentary "Modified".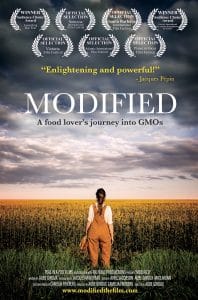 Modified is a first-person feature documentary that questions why genetically modified organisms (GMOs) are not labeled in Canada and the US, despite being labeled in 64 countries around the world. Shot over a span of ten years, the film follows the fight to label GMOs while debunking the myth that we need GMOs to "feed the world". The film's story is anchored in the relationship between the filmmaker and her mother, a passionate organic gardener and food activist who died of cancer during the film's production. The film is directed and produced by award-winning producer of "Kitchen Vignettes on PBS" and food writer Aube Giroux, executive produced by acclaimed producer Camelia Frieberg, and edited by Mike Munn, editor of the Oscar-nominated "Stories We Tell". Modified is distributed by Blue Ice Docs and will be released in September 2017. Click here to view the trailer.
Meet the Filmmaker Aube Giroux, Ontario, May 27 – June 7
Ontario screenings featuring a Q&A with filmmaker Aube Giroux and CBAN Coordinator Lucy Sharratt:
Ottawa, Sunday May 27: The ByTowne Cinema, 1:45. Tickets CASH ONLY (HST included) $12 non-members, $8 Bytowne members (with card), $6 children under 12. Help spread the word: print and distribute posters and flyers

Renfrew, Monday May 28: Opeongo

 High School

, 

7:

15

with snacks!

Adults $12

.00

,  Youth

(17 

yrs

 & under) Free Admission.

More Info: 

Bob Dobson 613 646 2488

Toronto, Thursday, May 31: Fox Theatre, 2238 Queen St. E. Doors open 6pm, show at 6:45pm. Tickets by donation to CBAN.
Toronto, Friday June 1: Carlton Theatre, 20 Carlton Street.
Guelph, Saturday June 2: The Bookshelf Cinema, 41 Quebec Street, 2:00. All tickets $10 at the door or buy your ticket online here. Help spread the word: print and distribute posters and flyers.

Toronto, Friday June 1 – June 7: Carlton Theatre, 20 Carlton Street. Daily matinee at 1:30 and evening screenings at 6:40pm, with director and guest speakers in attendance. www.imaginecinemas.com/carlton-cinema