Pamphlets
Download and print these pamphlets for distribution in your community or contact us to order copies.
Bayer
Flyer about the company Bayer and genetically engineered foods to hand out at the March Against Bayer/Billions Against Bayer May 25. Print on legal size paper, double-sided and cut in half. May 2019.
One page, double-sided, trifold pamphlet with an introduction to genetically modified (GM) foods and a chart of the GM foods on the market in Canada. September 2018. Print up copies in black and white, or colour – or contact us to order copies.
A quarter page flyer in colour to inform your friends and neighbours that genetically engineered salmon is now on the market, unlabelled. Print on letter-sized paper and cut into four, to make a flyer to distribute in your community. May 2019.
GM Alfalfa Update and Action Handout
GMO Inquiry: Report Summary Pamphlets
All six of CBAN's GMO Inquiry reports have summary pamphlets (2015):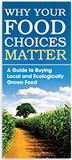 Why Your Food Choices Matter: A Guide to Local and Ecologically Grown Food
This colouful brochure includes the basics about local, organic, ecological as well as information about what genetically modified crops and foods are on the market. Contact us if you are interested in distributing these in your store or at your farmers market stall.