Events
Forum: Defeating The Giant – Monsanto / now Bayer
Monsanto's Glyphosate – Forum for Concerned Citizens. Toronto.
Concerned citizens, please join us at the Gladstone Hotel
2nd floor Gallery 1214 Queen Street West, Toronto ON M6J 1J6
Tickets: $35 (including refreshments and one drink ticket)
Registration and refreshments starts at 6:30 pm
Presentation begins at 7:30 pm to 9:30 pm
Share on Facebook
Friends of the Earth Canada and Canadian Environmental Law Association (CELA) invite you to meet California lawyers, Michael Baum and Brent Wisner who successfully sued pesticide giant Monsanto winning Roundup poisoning victim Dewayne "Lee" Johnson US$289m later reduced to US$78m. Learn how they are leading an ongoing litigation campaign against Monsanto in the U.S.
Through the legal "discovery" process, these lawyers raised the "curtain of secrecy" to expose manipulation of science, ghostwritten studies and suppression of findings of carcinogenicity of Roundup and its active ingredient glyphosate. They will talk about the key aspects of their case that "won the day" and spotlight key findings in their case that regulators and the concerned public should consider in addressing the registration and the extensive use of glyphosate in Canada.
Dr. Meg Sears, Chairperson of Prevent Cancer Now will provide a context setting presentation of health trends and concerns in Canada that mirror effects of glyphosate/Roundup.
Future GMOs – New Gene Editing Techniques
CBAN workshop at the Guelph Organic Conference
12:45-1:45 Sunday, January 27, 2019, Guelph, Ontario
Guelph Organic Conference, University of Guelph
Admission requires conference registration.
Join US-based former genetic engineer Jonathan R Latham, PhD, and editor of Independent Science News, as he explains the science behind these new tools and their risks. Facilitated by Heather Lee from the Toronto Non-GMO Coalition with insights from Dag Falck, Organic Program Manager at Nature's Path Foods, and Lucy Sharratt, Coordinator of the Canadian Biotechnology Action Network (CBAN).

Modified – Film Screenings
Watch the new Canadian documentary "Modified"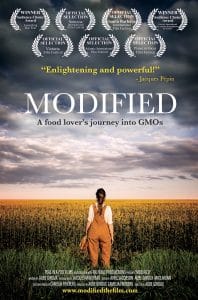 Check listings for a list of screenings in your area.
Modified is a first-person feature documentary that questions why genetically modified organisms (GMOs) are not labeled in Canada and the US, despite being labeled in 64 countries around the world. Shot over a span of ten years, the film follows the fight to label GMOs while debunking the myth that we need GMOs to "feed the world". The film's story is anchored in the relationship between the filmmaker and her mother, a passionate organic gardener and food activist who died of cancer during the film's production. The film is directed and produced by award-winning producer of "Kitchen Vignettes on PBS" and food writer Aube Giroux, executive produced by acclaimed producer Camelia Frieberg, and edited by Mike Munn, editor of the Oscar-nominated "Stories We Tell". Modified is distributed by Blue Ice Docs and will be released in September 2017. Watch the trailer.