Join Kids Right to Know in Toronto on October 25, Tuesday morning at 7:45AM outside the "Public Trust Summit" sponsored by Syngenta and Corteva, Toronto Reference Library, 789 Young Street to stop the government plans to remove regulation from new GMOs.
The "Public Trust Summit" is organized by the Canadian Centre for Food Integrity, and it is sponsored by the major GM seed companies Syngenta, Corteva and BASF. It is advertised as "A forum for developing relationships and learning how to engage and build trust in our food system together." But the federal government is proposing to remove independent government risk assessments for many new GMOs! Do you trust biotechnology companies to assess the safety of their own products? How can the industry build trust while it pushes to remove government oversight? Stop corporate self-regulation!
Stay tuned for flyers and more information.
Modified – Film Screenings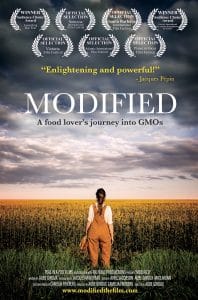 Modified is a first-person feature documentary that questions why genetically modified organisms (GMOs) are not labeled in Canada and the US, despite being labeled in 64 countries around the world. Shot over a span of ten years, the film follows the fight to label GMOs while debunking the myth that we need GMOs to "feed the world". The film's story is anchored in the relationship between the filmmaker and her mother, a passionate organic gardener and food activist who died of cancer during the film's production. The film is directed and produced by award-winning producer of "Kitchen Vignettes on PBS" and food writer Aube Giroux, executive produced by acclaimed producer Camelia Frieberg, and edited by Mike Munn, editor of the Oscar-nominated "Stories We Tell". Modified is distributed by Blue Ice Docs and will be released in September 2017. Watch the trailer.