Events
The Taste of Pesticides: Roundup in Your Food
Scientist Gilles-Éric Séralini and French chef Jérôme Douzelet, lecture and book signing
7PM-9PM Monday November 5, 2018
Halifax, Nova Scotia
Dalhousie University, Ondaatje Auditorium, Marion McCain Building, 6135 University Ave
Free Admission
Gilles-Eric Séralini, a professor of molecular biology at the University of Caen in France who has tested and published papers on the safety of genetically modified foods and glyphosate-based herbicides, and French chef Jérôme Douzelet, have joined forces to discuss their experiences with pesticide regulations and the possibility of developing a joyful, organic cuisine, full of flavour, colour, and texture, in harmony with biodiversity and health. Chef Jerome Douzelet will speak about work with wines and pesticides in France.

Modified – Film Screenings
Watch the new Canadian documentary "Modified"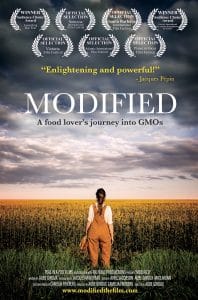 October 10 – Princess Theater – Waterloo, ON
October 12 – Wakefield Doc Fest – Wakefield, QC
October 16-21 – The Globe Cinema – Calgary, AB
October 22 – Kings County Museum – Kentville, NS 
October 25 – The Big Carrot – Toronto, ON
October 25 – Community Natural Foods – Calgary, AB
November 2 – Chisholm United Church – Chisholm, ON
November 13 – The Cinematheque – Vancouver, BC
Check listings for more details and more screenings in your area.
Modified is a first-person feature documentary that questions why genetically modified organisms (GMOs) are not labeled in Canada and the US, despite being labeled in 64 countries around the world. Shot over a span of ten years, the film follows the fight to label GMOs while debunking the myth that we need GMOs to "feed the world". The film's story is anchored in the relationship between the filmmaker and her mother, a passionate organic gardener and food activist who died of cancer during the film's production. The film is directed and produced by award-winning producer of "Kitchen Vignettes on PBS" and food writer Aube Giroux, executive produced by acclaimed producer Camelia Frieberg, and edited by Mike Munn, editor of the Oscar-nominated "Stories We Tell". Modified is distributed by Blue Ice Docs and will be released in September 2017. Watch the trailer.