Public Forum – Replacing Nature: The challenges of genetically modified salmon
Montreal, September 26, 2019
– 7:00 PM, Clark Room
Climate breakdown is further threatening wild fish and our ability to get food from our oceans. A genetically modified (GM) Atlantic salmon is already on the market. Can humans replace wild fish with GM fish? How does genetically modifying salmon change our future? Is this an option to preserve natural populations? If so, at what cost? Join us to discuss the ethical, social, cultural and environmental impacts of GM salmon
Featuring:
Catherine Lambert Koizumi, Ph.D., Executive Director, Mi'gmaq Maliseet Aboriginal Fisheries Management Association.
Lyne Morissette, Ph.D., Ecologist
Lucy Sharratt, Coordinator, Canadian Biotechnology Action Network
Moderator: Thibault Rehn, Coordinator, Vigilance OGM
Please join and share the event on facebook.
The world's first genetically engineered (genetically modified or GM) food animal is a GM Atlantic salmon now produced in Panama – soon to be produced in Canada (P.E.I.) and in the U.S. (Indiana), at on-land aquaculture facilities. The GM salmon is already on the market in Canada, unlabelled.
GM salmon threaten the future of wild salmon if GM fish come into contact with wild populations. If there is no contact with wild fish, is there no impact on the future of wild salmon? What is the impact of producing GM fish on the future of wild fish and fisheries, and the future of food production? If we have the ability to genetically engineer plants and animals, do we need nature? Will GM fish help relieve fishing pressures on wild populations?
Although techniques are improving, fish farming can threaten the balance of marine ecosystems, wild fish habitat and fisheries. The industry is generally polluting, using drugs to treat health problems as well as several other chemical products. Therefore, as a food source it may not be a sustainable alternative to overfishing. Is fish farming and GM fish a move to abandon the oceans as viable ecosystems, and abandon oceans as a food source for humans?

Modified – Film Screenings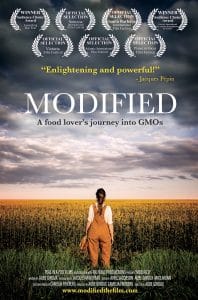 Modified is a first-person feature documentary that questions why genetically modified organisms (GMOs) are not labeled in Canada and the US, despite being labeled in 64 countries around the world. Shot over a span of ten years, the film follows the fight to label GMOs while debunking the myth that we need GMOs to "feed the world". The film's story is anchored in the relationship between the filmmaker and her mother, a passionate organic gardener and food activist who died of cancer during the film's production. The film is directed and produced by award-winning producer of "Kitchen Vignettes on PBS" and food writer Aube Giroux, executive produced by acclaimed producer Camelia Frieberg, and edited by Mike Munn, editor of the Oscar-nominated "Stories We Tell". Modified is distributed by Blue Ice Docs and will be released in September 2017. Watch the trailer.