How to Avoid Eating GM Salmon
Updated April 2019
GM Atlantic salmon is the world's first GM food animal. It is only being sold in Canada, but it is not labelled as genetically modified.
If I want to avoid eating GM salmon, what salmon should I buy?
Buy only wild salmon – do not buy farmed salmon.
Do not buy salmon.
If the GM salmon is not labelled, how can I trust my grocery stores' statement that they are not selling it at their seafood counter?
All of Canada's major grocery chains have told CBAN that they have no plans to sell the GM salmon: Costco, Federated Co-operatives Ltd, IGA (Owned by Sobeys), Loblaw, Longo's, Metro, Overwaitea Food Groups, Sobeys, Walmart Canada.
Grocery stores can ask their suppliers to only sell them non-GM salmon. Grocery stores and other food companies have a lot of power to source non-GM salmon and other non-GM products. They have access to the people who could buy salmon directly from the GM fish company.
The current statements from grocery stores mostly apply to seafood counters: click here to see the exact statements.You can also check here to see which companies own your local store and find contact information.
Which companies say they are not selling GM salmon?
Click here for the list of grocery stores in Canada that say they have no plans to sell the GM salmon. Also, the foodservice company Sodexo asks for non-GM animals only.
Take Action
Write to the head office of your grocery store to confirm that they are not selling GM salmon.
Write to the head office of you favourite sushi chain or favourite restaurant to ask them not to sell the GM salmon
Contact us to let us know what they tell you.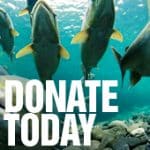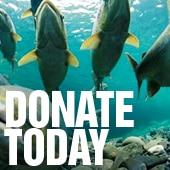 More Details
All genetically modified (GM) salmon is farmed salmon, and all Atlantic salmon is farmed salmon. There is no wild Atlantic salmon fishery because Atlantic salmon is an endangered species.
Until now, the GM salmon was produced at AquaBounty's pilot plant run in Panama however, in 2019, AquaBounty got permission from the Minister of Environment and Climate Change to produce GM salmon at an on-land site in PEI – the company says they will produce 250 tonnes of GM salmon in PEI, starting in 2020.
About 9 tonnes of GM salmon has been sold in Canada since June 2017 – it was shipped to Quebec, Ontario and Newfoundland.
In September 2018, AquaBounty's CEO told investors that a Canadian buyer is using the GM salmon for a "high-end sashimi line" (a type of sushi).
Import documents obtained through Access to Information requests show that most of the GM salmon was sold to foodservice companies (like restaurants and catering companies) and some to retail.
CBAN has secured statements from all the major grocery stores saying that they have no plans to sell it. These statements mostly refer to seafood counters and may not cover all salmon products in stores.
Click here for more details and background on the GM salmon.