Wheat
Market Status
There is no genetically modified (GM, also called genetically engineered) wheat approved, grown or eaten anywhere in the world. It has never been sold on the market. (The Canadian government lists six wheat herbicide-tolerant wheat varieties as approved "Plants with Novel Traits" but these are not the product of genetic engineering, these wheat varieties were created using chemically induced seed mutagenesis.)
June 2018: GM Wheat Contamination Found in Canada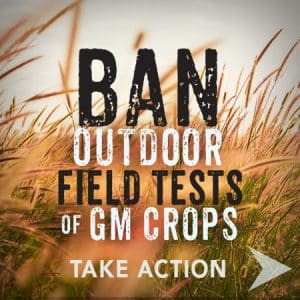 On June 14, the Canadian government announced a contamination incident with unapproved genetically modified (GM, also called genetically engineered) wheat. Several GM wheat plants were found on a road in Alberta in an isolated contamination case and the government does not know how they got there. No GM wheat was ever approved for growing or eating in Canada, but the GM trait found growing in Alberta was field tested from 1998-2000.
Take Action
Support the National Farmers' Union call to ban on outdoor testing of GM crops: Send your instant letter now.
Updates
July 21, 2018: Japan and South Korea has resumed imports of wheat and flour from Canada after their testing found no GM wheat.
Resources
Contamination
CBAN Background Resources:

June 2018: The Canadian government body called the Canadian Food Inspection Agency (CFIA) announced "an isolated finding of a few genetically modified wheat plants on an access road in southern Alberta" and that "there is no evidence that this GM wheat is present anywhere else other than the isolated site where it was found." However, the CFIA has completed an investigation and the cause of contamination is unknown. Click here to read the detection report and statements from the CFIA.
There have been three contamination incidents in the US with Monsanto's GM glyphosate-tolerant "Roundup Ready" wheat – a product that has never been commercially grown:
In 2016, a farmer in Washington state discovered 22 GM wheat plants in an unplanted field in July 2016.
In 2014, Roundup Ready wheat was also found growing on a former trial site in Montana.
In 2013, several countries suspended wheat imports from the US after GM wheat was discovered in a farmer's field. The US government was unable to determine the route of the contamination.
July 29, 2016: In the third such incident since 2013, the US Department of Agriculture has reported contamination from Monsanto's genetically engineered Roundup Ready wheat, which is not approved or on the market in any country including the US. A farmer in Washington state discovered 22 plants in an unplanted field. A possible source for the contamination is the limited field trials in the Pacific Northwest from 1998 to 2001.
October 2015: The US Department of Agriculture (USDA) is proposing changes to requirements for field testing genetically engineered wheat. The Canadian Biotechnology Action Network and the Organic Agriculture Protection Fund of the Saskatchewan Organic Directorate submitted comments. "The proposed plan to implement oversight of genetically engineered wheat field trials via permits is welcomed as a necessary step to minimize the risk of GE wheat contamination…Until such time that there is a moratorium on GE wheat field trials, there is a need for enforceable standards, active monitoring and testing to ensure compliance. All field trials need to be evaluated, inspected and monitored."
Press Release – May 29, 2013: llegal GM Wheat Contamination Discovered in US: Contamination Status in Canada is Unknown
Past Developments
Summary History: In 2004, Monsanto withdrew requests for government approval of its herbicide tolerant GM wheat in Canada and the US because of widespread farmer and consumer protest in both countries, and around the world. However, Monsanto re-launched research into GM wheat in 2009 and the biotechnology industry is now engaged in a new public relations campaign to create a climate favorable to the introduction of GM wheat. Monsanto's new plans for GM wheat are, however, meeting the same strong objections that defeated the company's product in 2004. The biotech industry is now focusing their efforts in Australia. The Canadian Biotechnology Action Network will continue to monitor this issue. In early 2010, CBAN coordinated an effort that resulted in 233 groups from 26 countries restating their opposition to GM wheat.
February 2012: Canadian farmers spoke in communities across Australia. Australians want to know why Canadian farmers, processors and citizens, worked so hard to keep out GM wheat. "As a young farmer, only recently returned to the farm, I have no desire to grow GE wheat, nor do I want my neighbors to grow it. Pollen flow, spillage and the many points where contamination can take place would make it impossible for me to grow GE free wheat. On every level it is a bad idea." stated Matt Gehl, 27, who farms over 1600 hectares in Canada.
February 2012: "Genetically modified (GM) wheat … is still widely regarded as not acceptable for the foreseeable future." stated the Grain Growers Ltd, leading industry body for the Australian grains industry. From the February 2012 report titled "What the World Wants from Australian Wheat" – an analysis of industry surveys and interviews with flour and stock feed manufacturers in Australia, South East Asia, North Asia, the Middle East and Europe. Over 80% of Australia's export market (in value) will not buy GM wheat now, for the next five years, or in the foreseeable future.
April 7, 2011: Canada's National Research Council Disavows GM Wheat. The National Research Council of Canada (NRC) issued a statement to clarify that it has no plans to research genetically modified (GM) wheat. NRC now states: "GM wheat is not an objective of the NRC wheat program. We will be developing a number of tools that will be used to reduce the breeding cycle, increase yield and adapt to climate stresses. GM varieties are not contemplated at this time." The statement was issued to CBAN in response to media stories of April 3 that reported on a leaked memo from the government research agency. "NRC has finally recognized what everyone but Monsanto understands: that GM wheat is unacceptable to farmers and consumers," said Lucy Sharratt of the Canadian Biotechnology Action Network.
July 2011: Australia's top scientific body, CSIRO, is conducting the world's first human feeding trials of GM wheat. Scientists have already denounced the trials: "The feeding trials should not be conducted until long-term impact assessments have been undertaken and appropriate information released to enable the scientific community to determine the value of such research, as against the risks." A Greenpeace report, Australia's Wheat Scandal, detailed a major conflict of interest at CSIRO.
July 2010: Monsanto and BASF Plant Science are expanding joint research to develop GM wheat. They say they aim to commercialize a GM wheat in at least 10 years. The companies say they plan to "initially focus on developing biotech products for the North American and Australian markets." The joint announcement comes on the heels of a separate plan announced by Syngenta and the International Maize and Wheat Improvement Center in April to work toward biotech wheat
Farmer Rejection in Canada
69% of farmers are opposed to the introduction of GM wheat "at this time" according to a 2009 survey conducted by the Canadian Wheat Board.
83% of Canadian farmers disagreed that Roundup Ready wheat should be introduced according to a study started in 2004 and published in a peer reviewed article March 2009. Overall, the farmers ranked the risks of market loss, corporate control of the food supply, agronomic impact and contamination of non-GM crops much higher than any anticipated production benefits. The study: "Farmer knowledge and a priori risk analysis: pre-release evaluation of genetically modified Roundup Ready wheat across the Canadian prairies", Ian J. Mauro & Stéphane M. McLachlan & Rene C. Van Acker, 20 March 2009, Environmental Science and Pollution Research.
GM Wheat Rejected Globally
233 Farmer and Consumer Groups from 26 Countries
A rejection statement was organized by CBAN in response to a 2009 pledge from industry groups in Canada, Australia and the US to "work toward the goal of synchronized commercialization of biotech traits in our wheat crops." The statement reads:
"In light of our existing experience with genetic engineering, and recognizing the global consumer rejection of genetically engineered wheat, we restate our definitive opposition to GE wheat and our commitment to stopping the commercialization of GE traits in our wheat crops" 
Slovak Translation! Definitívne Globálny odmietnutie geneticky modifikované pšenica